Nukeproof Bikes Demo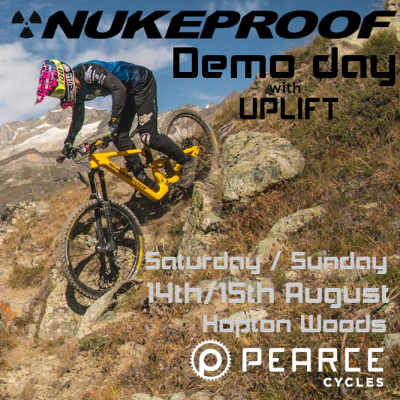 Over the weekend of 14th and 15th of August, we will be hosting a Nukeproof Demo Day with some of the hottest bikes around available to test ride.
We will have on hand two of the team from Nukeproof along with a range of Reactors, Megas, Gigas and Megawatts available to test on the trails at Hopton.
There are limited numbers of bikes available and due to Forestry Covid restrictions, numbers will be limited. You will need to book your bike in advance if there is something you want to test.
If you have attended any of our previous demos, then this will be run in a slightly different manor. Partly due to the restrictions but also so you can have more time with the bike and also to chat with the guys from Nukeproof. We will leave the bottom of the hill for a group ride (we will use the uplift though), once at the top, we will ride a loop taking in a lot of the singletrack of the red loop before descending back to base. We will then have the uplift running for you to get a few more runs in on the bikes or swap bikes if there are others available. 
For the ebike riders, we will ride up to start. After the lap you are free to use the uplift or if you want to test out the climbing capabilities of the Megawatt, that is up to you!!!