Orange Alpine Test bike Now In Store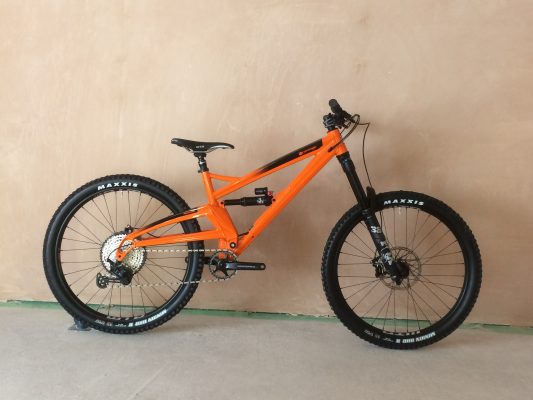 We now have the new Orange Bikes Alpine 6 in store as a test bike. Ready for you to ride. 
The Alpine 6 is one of the best enduro bikes around. With impeccable balance, the bike always feels composed. With a weight around the 30 pound mark depending on spec, the Alpine is nimble on its feet too.
With 5 spec options and a frame only option, you can build this bike exactly how you want. Our test bike is the Pro spec.
When you demo a bike from us, you can take the bike away and demo it on your local trails or we can point you in the direction of some great local trails where you can test everything on the bike. We will set the bike up for your size and weight at the shop.
Here is what Orange have to say about the bike:
The Challenge: How do we go about updating a bike in our range whose legion of fans don't want us to change anything?
The answer, as with everything we do, is with great care and a stack of test feedback.
The new Alpine 6 has been through one of the most intensive prototyping programs we've ever done – the result is spectacular.
With the introduction of the 230mm metric shock, we have revised the suspension layout to increase the rear travel. We've also tuned the frame to be more progressive to retain a bottomless feel and improve small bump smoothness, treading that fine line that keeps wallow at bay and gives the Alpine 6 all the control it needs.
The geometry has also been under the microscope and refined to match the new suspension performance, resulting in more agility, stability and confident speed.
When you come upon one of those unholy beasts of a trail, this is the bike to take it on at full-gas and tame it.
WHY THE ALPINE 6?
Brand New monocoque 6061-T6 aluminium frame
Designed and built in Britain
5 year frame warranty with Limited Lifetime Crash Replacement
Unique Single-pivot suspension for optimum performance, efficiency and reliability

New

 Radically revised, more progressive frame suspension layout with 230x65mm metric shock

New

 Reworked Alpine geometry for confidence, speed and stability

New

 170mm Front/165mm rear travel​

New

 Frame Bottle Bosses
Boost 148 rear hub spacing
Available in 5 model specs: S, Pro, RS, Factory and XTR
Bike Builder: Component upgrades available and a choice of
6 custom colour options. Excluding S spec, (Fizzy Orange only)