The New Specialized Levo SL redefines the ebike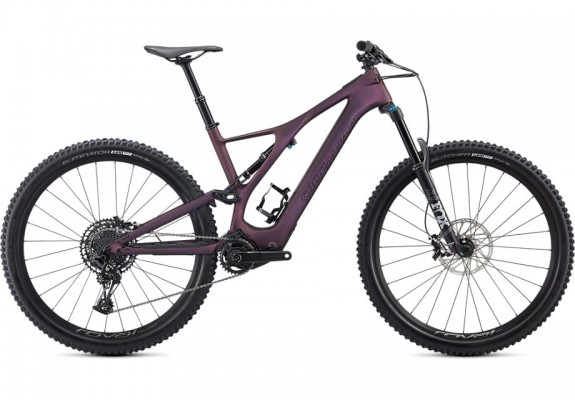 The New Specialized S-Works Levo SL is the Lightest emtb and has redefined the electric mountain bike. 
A superlight e-MTB with 150mm of travel that doubles your pedalling power and handles like a nimble trail bike?
Conventional wisdom says that's impossible—E-bikes can't be playful. Fortunately, the Turbo Levo SL doesn't give a damn about conventional wisdom. Instead, the Turbo Levo SL crushes long rides, loves to get rowdy, and completely redefines the modern mountain bike experience.
THIS CHANGES EVERYTHING
 At a weight as light as 17.3 kilograms (38.25 pounds), the S-Works Turbo Levo SL isn't just the lightest e-MTB in its class—it's in a class of its own. And why does that actually matter? Because the end result is a veritable mountain biking unicorn. A bike that's light and nimble that loves to get airborne, manoeuvres through technical terrain with ease...and gives you the power to ride more trails
We've harnessed the quick and lively ride of our Stumpjumper and added power to introduce a whole new dimension of kick ass. That meant creating an entirely new, superlight and powerful motor. Designed in California and engineered in Switzerland,the Turbo Levo SL's 240-watt Specialized SL 1.1 motor doubles the power you put into the pedals with a remarkably smooth and natural feel. And when the motor is off there's no drag, so the Levo SL pedals with the ease of a traditional drivetrain. SAME EFFORT,DOUBLE THE REWARD
RIDER AMPLIFICATION 2x You (240 watts) MAX TORQUE 35 Nm
 The Turbo Levo SL's advanced motor and lithium-ion batteries give you the speed and range to tackle truly massive rides. With up to 3.5 hours of ride time from the internal battery alone, the Levo SL lets you enjoy the ride without worrying about the range. Want to go even further? Our Range Extender is the answer. Included with both the S-Works and Founder's Edition models (and available as an accessory for all other models), each Range Extender battery provides up to another 1.5 hours of ride time, for a total of up to 5 hours of trail-riding power
 With our Mission Control App, you can custom tune the Turbo Levo SL's power delivery, control your range, record rides, track your power, and even use Smart Control to automatically handle battery management so you'll always have power when you need it. It's power, personalised. Or you can simply climb aboard, push the "on" button, and hammer to your heart's content. It's your choice. You're good either way, because we've created technology that connects you to the trail and lets you focus on what matters most—the ride.