2023 Pearce Cycles Race Series Dates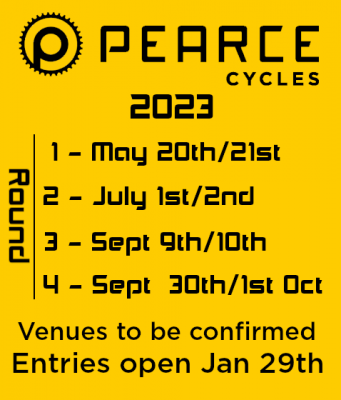 Yes! We know it has been a while, we can only apologise but we have been flat out trying to sort out all the details.
We know that you have all been waiting patiently and have been holding off other plans. We can finally release our 2023 race series dates for you. Each year we say, 'next year we will get it sorted earlier' but something always comes up and everything goes out of the window. 
Unfortunately, this year we now have more restrictions than ever at more of our venues. There are a variety of reasons including insurance and conservation, we also have to work around the other DH events like the National Series and National Champs who get first choice on dates. Due to these reasons, we are only able to offer a four round series this year rather than the five rounds we had hoped for. 
Many of our title and series sponsors are on board again. We will bring more news as and when we can confirm. Moore Large are the biggest sponsor with Kenda, Tannus and Oneal who have supported us for a few years now. Burgtec, Leatt and Spank are also on board with series prizes. Hopefully we get a few more to join us too. 
2023 Race Entries open 29th January!!
Save the date! 29th January 2023. Race entries for the 2023 Pearce Cycles Downhill race series will open. Entries will open at 00:00 a.m. for all categories.
Entries will be via our website here: www.pearcecycles.co.uk/events