Pearce Cycles 2023 Series Round 1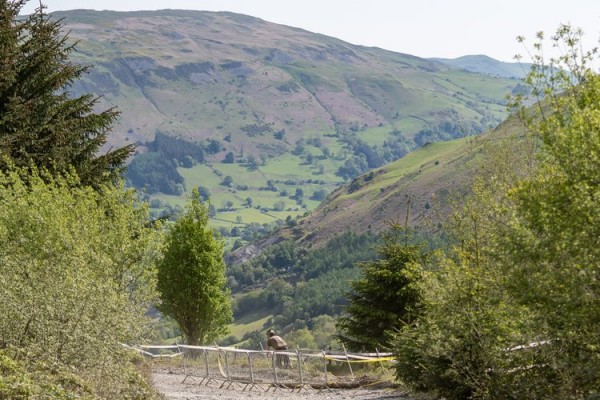 Massive thanks to Mat Price for the Round One round up. Check out more photos from Rhyd y Felin in his blog: Mat Price Photography.
Full results can be found here. Results.
First round of the 2023 Pearce Cycles Downhill Series at the classic Rhyd Y Felin venue is now done and dusted (literally) As always Pearce and all of the team put on a faultless weekend of weather and racing bikes, with a sold out event it was going to be a busy weekend.
First uplift started at 9:00am and with the usual army of Land Rovers and trailers people were on track in no time. It wasn't long before trails of dust and the noise of riders started to make its way down the hill. The track started in the same place it always has done, a short sprint before a some flat out bus stops and jumps, before slowing up for a few narrow corners then riders are out in to the open and some bigger jumps and already very loose looking berms.
The track ran parallel with the uplift road briefly with some more quick turns before heading into the tighter and darker wooded section. This section looked to be causing the most problems for riders, not only the 100's of roots but multiple line choice and the greasy conditions first thing made it pretty challenging. After the woods riders were spat out over a greasy road and into a shaley chute, this is where things began to speed up again again with a few step downs and a huck to flat off a tree stump that was catching a few people out, I've no idea which looked quickest but going over the stump definitely looked better from behind my lens.
Just after the stump riders were heavy on the brakes as they crossed a small road into my favourite section to photograph all weekend, a quite tight right/left into a drop. Personally I think the fastest through this section all weekend was Jordan Williams-Specialized Gravity Racing. A few more fast bermed corners before dropping on to the uplift road into the final wooded section.
Across the final road and you were into what looked the fasted part of the track, a few fast turns and stumps into a couple of very loose switchbacks which caught out plenty of riders over the weekend. One last left hander and your out into the finish field, dry dusty corners all the way to the line. Fasted time of the day went to Matt Walker-Madison Saracen Factory Team 2:50!
Sunday morning we were greeted again with perfect blue skies (How do Pearce organise such good weather in Wales) A short amount of practice before the juveniles take to the track at 11:00
Faultless uplifts as always made sure things stayed pretty much on time, hats off the all the drivers and marshalls who dealt with the dust and heat all weekend, if it wasn't for these people these races would be as popular as they are.
It's always good to see some of the big names at the smaller regional races. Jordan Williams, Joe Breeden and XC and Enduro racer Hattie Harden and others were in attendance before the first UCI world cup of the season.
Racing was wrapped up just after 5:30pm a pretty impressive day of racing bike in glorious conditions. Great to see so many people hang around for the podiums at the end of the day. Thanks again to Pearce Cycles and all of the people who made this weekend possible, a perfect weekend racing as always. See you all at the the next one at Bringewood.