Orange, Nukeproof, Merida and Specialized Demo Day with Uplift - Hopton Woods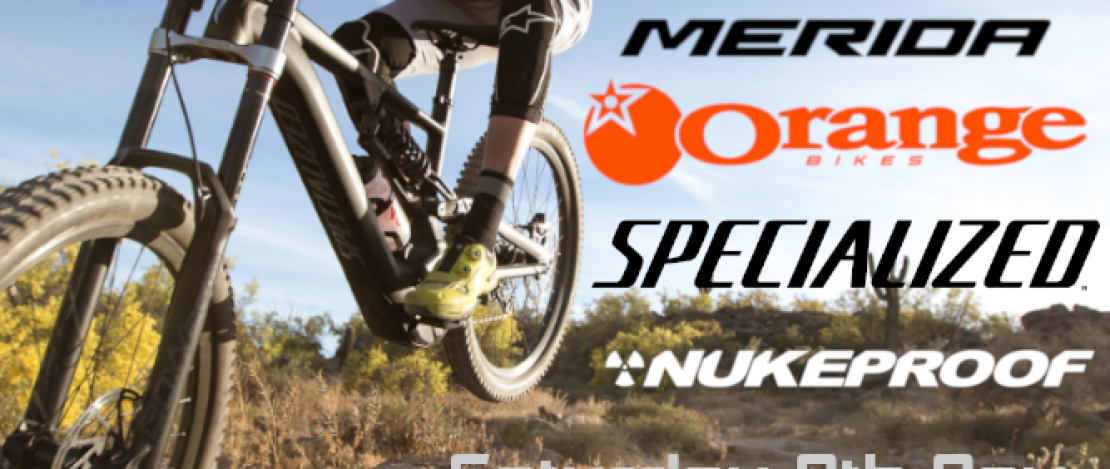 GENERAL INFORMATION
Uplifts will run from 10.00am until 3.30pm.
The Hopton Woods venue has three separate Downhill runs suitable for riders of all abilities. Trail bikes are suitable. The tracks don't have any big features, all drops/jumps are rollable. 
The trails are all natural surface, so are rooty and potentially slick when wet.
Hopton is also home to our own XC loop, this is a permanent loop, like a trail centre loop but natural surface all the way. 
We will arrange a shortened loop which you will be able to cut into from the uplift.
There is no strict agenda, everyone is free to do just what they want to do, have a run when they want and rest when they want. No pressure, No stress.
We will have food on site for the demo day and also a pressure washer. 
Orange Bikes are bringing their full range of full suspension bikes and ebikes. 
Merida will be bringing their excellent trail bikes and their electric MTB's.
Nukeproof will be along with the worlds fastest Enduro bike for everyone to ride.
Specialized will have their Turbo van with their Levo test fleet with all sizes of Levo to test.
Directions
Hopton Woods, Hopton Castle, Nr Craven Arms, Shropshire, SY7 0QF.
From A49 at Craven Arms. Turn onto B4368 signposted Clun. In approx. 2 miles turn left onto B4367 signposted Knighton. Drive through Clungunford to Hopton Heath. Turn right, over railway bridge and then immediately left towards Hopton Castle. Follow narrow road to Hopton Castle. PLEASE DRIVE WITH CAUTION HERE. Turn left by the castle and follow MTB Race signs along Bedstone Lane to parking field on your right side.

When exiting, all traffic will need to turn right out of the venue towards Bedstone. 
Nearest postcode: SY7 0QF
We recommend not solely relying on your Sat Nav!
CURRENT ENTRANTS
| Name | Club sponsor | |
| --- | --- | --- |
| Ethan Ackroyd | - | |
| Anthony Adams | - | |
| Christian Ball | Plush Hill Cycles | |
| James Barnes | - | |
| Joseph Birch | - | |
| Richard Blizzard | - | |
| Jak Bower | - | |
| Joshua Brazier | RockGuardZ | |
| Richard Brazier | - | |
| Jamie Brett | - | |
| Christopher Broom | - | |
| Chris Broome | - | |
| Tom Bugler | - | |
| Sam Bushnell | - | |
| finn corbijn | Brightside | |
| David Cracknell | - | |
| Mark Croxall | - | |
| George de la Perrelle | - | |
| Malcolm Dunn | Caersws dh/uplifts | |
| Joel Edwards | - | |
| Tomas Elsmore | LeisureLakesBikes/RiseMTBPerformance | |
| Erika Exelby | - | |
| Ian Freeman | - | |
| Chris Griffiths | - | |
| James Harrison | - | |
| Eric Harvey-Fishenden | - | |
| Ben Heath | - | |
| Rob Hill | Pearce Cycles Race Team | |
| Sophie Hoare | - | |
| Ben Jackson | - | |
| Sam Johnston | Sorted Racegear TLD | |
| Tom Lafitte | - | |
| George Laight | - | |
| Josh Lancett-Edwards | Pearce Cycles Race Team | |
| Nick Leary | - | |
| James Leech | FOD Gravity Team | |
| alex luffman | - | |
| Barry Morgan | - | |
| Tim Morgan | Brooks Cycles | |
| Jack Morris | Pearce Cycles Race Team | |
| Max Mycroft | - | |
| Rosalie Newcombe | - | |
| Daniel Nieto | - | |
| Marcus Nisbet | - | |
| Mark Pearson | - | |
| SIMON PHILLIPS | - | |
| Laura Price | - | |
| Will Priestner | - | |
| Matthew Pugh | - | |
| Luke Richards | - | |
| Nick Roberts | - | |
| Tom Roberts | - | |
| Matthew Ryder | - | |
| Olly Sheppard | - | |
| Jack Stewart | - | |
| Jayden Stone | - | |
| Justin Sullivan | - | |
| Anthony Thomas | 0 | |
| Freddie Thomson | - | |
| Matt Verrin | - | |
| Max Walker | - | |
| Ieuan Walmsley Williams | - | |
| Scott Wareing | - | |
| Lewis Webber | RAAW Mountain Bikes | |
| michael weston | - | |
| Matthew Witty | - | |
| Jack Woodvine | - | |
COURSE PREVIEW