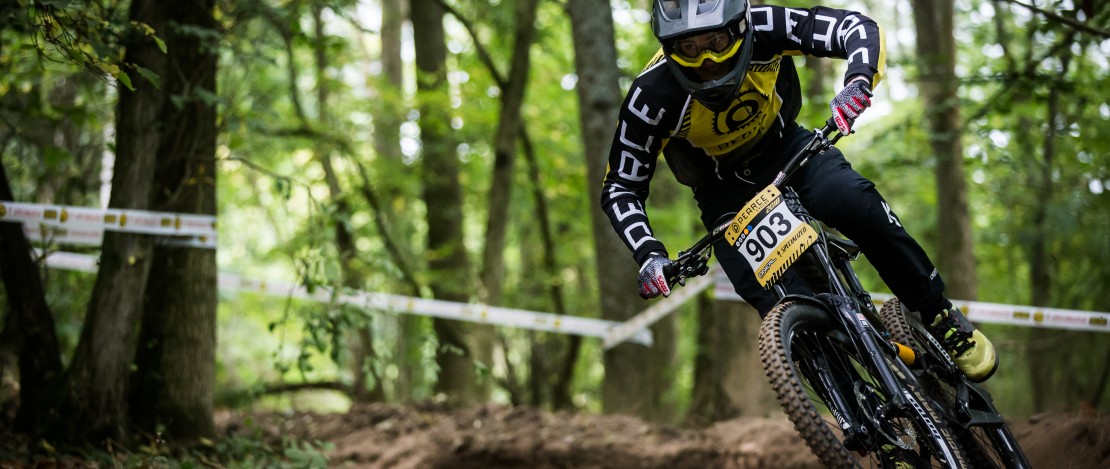 GENERAL INFORMATION
Come and enjoy a weekend of riding and racing with Pearce Cycles. On Saturday you will get a full day of uplifted practise on a marked downhill track that is marshalled and has medical cover. On Sunday you will get a further two hour practise time in the morning, then 2 allocated timed race runs. The tracks we use are designed for all to enjoy and ride safely. They are black graded but are suitable for both downhill and trail bikes.
You can race from the year of your 13th birthday upwards, a full explanation of the category system can be found HERE
Full event information, rules & regulations & event schedule HERE
**If you entered round 5 Hopton from 2020, your entry has been transferred to this race. Check the entry list and let us know if there are any changes of category or you don't want the entry.**
Directions
Hopton Woods, Hopton Castle, Nr Craven Arms, Shropshire, SY7 0QF.
From A49 at Craven Arms. Turn onto B4368 signposted Clun. In approx. 2 miles turn left onto B4367 signposted Knighton. Drive through Clungunford to Hopton Heath. Turn right, over railway bridge and then immediately left towards Hopton Castle. Follow narrow road to Hopton Castle. PLEASE DRIVE WITH CAUTION HERE. Turn left by the castle and follow MTB Race signs along Bedstone Lane to parking field on your right side.

When exiting, all traffic will need to turn right out of the venue towards Bedstone. Please follow the signs. No traffic should leave through Hopton Castle village.
ENTRY
We offer two types of account on our website.  A 'Shopper Only' account will allow you to purchase from the website, but doesn't allow you to book any events.  If you wish to book onto our uplifts, demo days and race series you will need a Shopper & Rider account.  This does require us to hold a small amount of additional information about yourself including date of birth and emergency contact details.
CURRENT ENTRANTS
| Name | Club sponsor | |
| --- | --- | --- |
| Gareth Brewin | The Trailhead | |
| Aaron Dalleywater | BRINK.UK | |
| Kieran Davies | Makingupthenumbers/Schwalbe/Plushhillcycles | |
| Ryan Dunn | - | |
| Warren Field | 2:1racing, Specialized uk | |
| Shaun Richards | Continental Saracen | |
| Adam Smith | Hope technology. Fasthouse. Muc-off | |
| Ryan Tunnell | Hot Pursuit Cycles , bikeglovestore , Specialized UK , Gibbs Suspension , Juice Lubes , Fox Racing , Burgtec | |
| Roger Vieira | Moore Large O'Neal Race Team | |
| Dec Willicombe | Brink UK/Plush Suspension/Smith Optics | |
| Name | Club sponsor | |
| --- | --- | --- |
| Lucy Drees | Creation Cycles | |
| Abbie Sloan | Pearce Cycles, Steele Industries Ltd, Forked Up MTB, MissionMX | |
| Aston Tutt | - | |
| Name | Club sponsor | |
| --- | --- | --- |
| Scott Barley | - | |
| James Bourne | - | |
| Christopher Cockrill | Firecrest Mountain Biking | |
| Vini Crighton-Poli | The Trailhead | |
| Harry Firth | Creation Cycles | |
| James Flinders | Leisure Lakes Bikes | |
| Alex Florian | Burgtec | |
| William Fuell | Redditch BMX Club | |
| Jason Gaiger | Freeborn/Devinci | |
| Finlay Gray | - | |
| Damian Groves | - | |
| Eric Harvey-Fishenden | Pearce Cycles | |
| Stuart Jones | Brooks cycles | |
| Bradley King | - | |
| Luke knight | Silk cycle works silk suspension stux gloves | |
| Sion Margrave | Moore Large Oneal Race Team | |
| Jonathan Oddy | Sunday Invitational | |
| John Riddell | Unite components - Blazing bikes | |
| David Smith | - | |
| Jimmy Smith | MTBBEDS ALLTHELOAMS CARDER TECHNOLOGY TORICO MORZINE | |
| Ed Smith | - | |
| chris spinks | - | |
| Jay Teague | - | |
| Danny Wenmoth | A-Line Gravity Racing | |
| Benjamin Worrall | - | |
| Alex Worrall | - | |
| Name | Club sponsor | |
| --- | --- | --- |
| Joel Anderson | specialized uk, loose riders, melon optics, Stans no tubes, 661 protection | |
| Isaac Anderson | Carder Technology | |
| George Baile | - | |
| Christian Ball | Plush Hill Cycles | |
| Edward Ballard | - | |
| Oscar Barker | - | |
| George Barnes | BikeGoo | |
| Ben Bywater | - | |
| Jack Chapman | Lost Yak | |
| Thomas Cooper | - | |
| Stefan Curzon Price | Dirt Riders/Rhythm and Bikes | |
| Toby Down | Carder Technology, 661 Protection | |
| Tom Evans | MIJ downhill, viris goggles, royal racing, kingud | |
| Harry Farnhill | - | |
| Nathan Foster | Spokes Bike Shop | |
| Matthew Foster | Racers Guild Squadron | |
| Joe Getliff | - | |
| James Gibson | - | |
| Alexander Gray | - | |
| Luther Griffiths | - | |
| Glen Groves | - | |
| Oakley Haines | - | |
| Ollie Halls | - | |
| Lewis Hanney | MIJ Downhill | |
| Gareth Hernaman-Wood | Royal Air Force CA | |
| Max Higginson | Snails Deli | |
| Tom Hunt | - | |
| Connor Husband | 67 race team | |
| Guy James | - | |
| tommy jeffs | - | |
| Robert Jones | - | |
| Brendan Jones | - | |
| Jonathan Jones | - | |
| Alexander Kemp | - | |
| David Kynaston | - | |
| William Langley | - | |
| Jay Little | - | |
| Ben Lovell | Zerode Bikes/Antur Stiniog | |
| Josh Mears | Army DH Team | |
| Thomas Mills | Army DH Team | |
| Josh Munn | Clee Cycles | |
| Tom Nisbet | British army downhill team | |
| Lewis Perks | Team Creation Cycles | |
| Ben Platt | - | |
| Harvey Powell | - | |
| Conor Roberts | Sorted Racegear TLD | |
| Ollie Rothwell | - | |
| Tom Scrivens | - | |
| Will Shaw | - | |
| Josh Smith | - | |
| Daniel Thomas | - | |
| James Thompson | Whitchurch MOT | |
| William Thompson | Whitchurch MOT | |
| james thompson | - | |
| Jake Ward | Levels Cycleworks | |
| Zak Woodman | - | |
| Name | Club sponsor | |
| --- | --- | --- |
| Analisa Elia | - | |
| Meghan Harris | - | |
| Suzanne Lacey | Pyga Bikes/ Pembree/ CST Tyres/ Pinned Attire | |
| Rachel Martin | - | |
| Jane Page | - | |
| Kim Preece | - | |
| Vaska Prostova | - | |
| Emily Smith | Army DH Team | |
| Rebecca Smith | - | |
| Rene Stent | - | |
| fleur ter kuile | Starling Cycles/Friction Cycles | |
| Jo Tucker | - | |
| Ebony Webber | Gibbs Suspension / Southfork racing / SDS race graphics | |
| Kelly Wilson | - | |
| Emma Wood | RNRMCA | |
| Name | Club sponsor | |
| --- | --- | --- |
| Joe Baker | Royal Navy race team | |
| Luke Benger Pearson | Whips and berms / dirty customs | |
| Joshua Bennett | The trailhead | |
| Alvaro Boswell-Hidalgo | - | |
| Joshua Brazier | RockGuardZ | |
| JAKE CARTLIDGE | Green Snow Collective | |
| Finn Clark | Sorted Racegear TLD | |
| George Dalgarno | - | |
| Tomas Elsmore | LeisureLakesBikes/RiseMTBPerformance | |
| Harry Evans | - | |
| joseph Furber | - | |
| Matthew Griffiths | Malvern MTB | |
| Deron Harbison | Dirt Riders | |
| Jacey Harris | Moore Large ONeal Race Team | |
| Jacey Harris | Moore Large ONeal Race Team | |
| Ben Hicken | Rockguardz | |
| Tyler Hughes | Can'tQuitCartel/KevFactoryRacing | |
| Charlie Jones | - | |
| Fin Luter | - | |
| Ollie Marfell | Whitchurch MOT Centre (WMC) | |
| Nathan Mckane | - | |
| Sam Morris | - | |
| Tyler Pollington | Carder Technology, The Bikeshed,The looseRiders SW | |
| Jake Powell | Whitchurch MOT Racing | |
| Charlie Savery | - | |
| Louie Smith | Whips & Berms / Dirty Customs | |
| Rueben Taylor | - | |
| Calum Tolley | Pearce Cycles Race Team | |
| Herbie Trow | - | |
| Brandon Turner | - | |
| Name | Club sponsor | |
| --- | --- | --- |
| Anna Craig | - | |
| jenna fellows | - | |
| mia haste | - | |
| Name | Club sponsor | |
| --- | --- | --- |
| Simon Aplin | - | |
| david brown | - | |
| Paul Burford | BTR FABRICATIONS | |
| Jordan Cavalier | - | |
| Andrew Critchley | - | |
| Pete Crookes | - | |
| Will Davis | - | |
| Matthew Eccleston | - | |
| Chris Edmunds | Mountain Trax | |
| Rikki English | - | |
| Nathan Etheridge | - | |
| Stephen Fenner | Knolly Bikes / RNR Goggles / SouthCoast Suspension / Rhythm & Bikes / Broken Riders | |
| Ben Gascoigne | - | |
| Greg Hampton | - | |
| Benjamin Harrison | - | |
| Rob Hill | Pearce Cycles Race Team | |
| Andrew Hughes | - | |
| Jake Ireland | - | |
| George James | - | |
| Gareth Johnson | Traction fabrication ltd | |
| Tudor Jones | - | |
| Ralph Jones | - | |
| Joe Kershaw | - | |
| Steven King | - | |
| Shaun Lewis | - | |
| Elliot Machin | - | |
| Matt Mclean | - | |
| Oliver Medcalf | S4P. Proform Tyre Tool | |
| Tim Morgan | Brooks Cycles | |
| Adam Morgan | - | |
| Alex Morris | - | |
| Andrew Murphy | AJM windows | |
| Thomas Owen | - | |
| Dan Partington | Sunday Invitational | |
| Lewis Patterson | - | |
| Simon Pemberton | Sunday Invitational | |
| Adam Pendleton | - | |
| Lee Piper | Gate23 | |
| Mike Power | RAF DH Team, Trailmunki Bike Shop, Rockerline Clothing, Karma Surfboards | |
| Joey Powis | - | |
| Sam Price | - | |
| Frazer Roberts | - | |
| Ed Robinson | - | |
| Lewis Rossiter | - | |
| Bradley Shields | Dirtworks / pivot uk | |
| Daniel Smith | Devinci/Freeborn.co.uk | |
| Nigel Stanley | - | |
| Dan Taylor | - | |
| Carl Teather | - | |
| Ryan Telling | 2:1Racing/Specialized UK/Burgtec/RockGuardz/Fusion MX | |
| Dan Timpson | - | |
| Justin Towle | - | |
| Stuart Warrior | - | |
| Sam Waters | - | |
| Gareth Watkins | - | |
| Shaun Webb | Royal Air Force | |
| Ryan West | - | |
| Aled Williams | Setchfield Cycles | |
| Richard Yockney | Army-Helix-ABF | |
| Name | Club sponsor | |
| --- | --- | --- |
| Paul Blight | - | |
| Ivor Bowen | - | |
| Nathan Cavalier | - | |
| Jamie Charlton | Rust components | |
| Pete Crump | Pearce cycles/orange/Hope/renthal/Hutchinson/ SBXextreme/Rockgarudz/zipp/granite | |
| Matthew Davies | Rockguardz | |
| Sean Day | - | |
| Matt Dean | - | |
| chris derry | Pearce Cycles | |
| Barry Fenton | Rapidas | |
| Seb Frost | Rootsandrain.com/Renthal | |
| Lee Hammett | - | |
| Stephen Hardcastle | - | |
| Ross Holding | - | |
| Ross Hood | - | |
| Will Hughes | - | |
| Stu Hughes | Can't Quit Cartel/Kev Factory Racing | |
| Barry Husband | 67 Race Team | |
| Gareth Lake | 2:1Racing/Specialized UK/Burgtec/RockGuardz | |
| Nick Larkin | Rapidas | |
| David List | - | |
| Kris Lord | - | |
| Andrew Macmillan | - | |
| Nick Masters | Downhill Circus / Deity Components / 7idp | |
| Phil Mathar | - | |
| Laurie Mills | UKMTBC | |
| Andrew Old | - | |
| Will Priestner | - | |
| nigel smith | na | |
| Craig Taylor | Freeborn/SBxtreme | |
| Scott Turtle | - | |
| Neil White | Singletrack. Revolution Bike Park. Brink. Schwalbe. Hope. Dexshell | |
| Howard Williams | Rockguardz | |
| Rich Wiltshire | BSD Racing Team, Flow Vision, FKD, Suspension Inc, Send It Krew | |
| Name | Club sponsor | |
| --- | --- | --- |
| Ian Bray | MIJ Racing, Royal Racing, 7idp, Tag, Viris, Zerobikes, Rockguardz, Kingud | |
| John Cobb | - | |
| Alvar Coppard | S4P Proform Tyre Tool | |
| Nicholas Eyre | Barracuda Bob Racing | |
| Matt Fellows | - | |
| Phil Gray | - | |
| Ian Harrison | - | |
| Paul Jervis | - | |
| Joe Killner | Michelin / Troy Lee Designs / Squirt lube | |
| Matthew Patrickson | - | |
| Lee Pettitt | Racers Guild Squadron | |
| Darren Powell | - | |
| Jono Simpson | Pearce Cycles Race Team | |
| Rich Simpson | RSR Bikeworks / Mountain Mania Cycles | |
| Nigel Thomas | - | |
| Michael Whyte | Racers Guild Squadron | |
| Name | Club sponsor | |
| --- | --- | --- |
| Billy Anderson | - | |
| Callum Banks | - | |
| Henry Blackmore | - | |
| will Brierley | none | |
| Tom Brookes | Dirt Factory / Two Wheels Claims | |
| Tom Butler | - | |
| Kieran Calver | Owkay clothing. Pro-Green MX bike wash | |
| Thorne Clarke | - | |
| Finn Cooper | Creation Cycles | |
| Ethan Dowell | - | |
| Rufus Farmer | - | |
| Ben Field | Off Root | |
| Raif Furmenger | - | |
| Oscar Griffiths | GT Viris | |
| WILL HAINES | Pedalabikeaway, Wye MTB | |
| Oscar Hakes | Cliff Pratt Racing | |
| Jordi Hart | Propain Talent Factory Racing | |
| Jowan Hewitt | Amped emotion cycles | |
| Sam Johnston | Sorted Racegear TLD | |
| Sam Jones | - | |
| Kris Lancaster | - | |
| Josh Lancett-Edwards | - | |
| Archie Lees-Barnes | - | |
| Luke Madley | BRINK.UK | |
| George Marfell | Whitchurch MOT Centre (WMC) | |
| Conrad Mathar | Lock 'n' Load Racing | |
| Oliver Millar | - | |
| Jake Mitchell | None | |
| Dan Nadin | - | |
| Finn New | Rockguardz | |
| Jake Pritchard | - | |
| Owen Rick | Stanton Bikes, Pinned Attire, Tred Shop | |
| Will Savery | - | |
| Rowan Scott | - | |
| William Smith | - | |
| Aaron Thomsett | - | |
| Archie Townsend | - | |
| Samuel Turtle | - | |
| Name | Club sponsor | |
| --- | --- | --- |
| Jake Bazeley | MSW | |
| Charlie Buckley | - | |
| Seth Cains | - | |
| Charlie Cooper Davies | - | |
| Hadley COPPARD | Podium Zone app | |
| Nathan Diwell-Wilson | DC Cycles | |
| Max Eddon | - | |
| Rory Eddon | - | |
| Will Evans | - | |
| Ned Field | Off Root | |
| Sam Gilbert-Walker | - | |
| Felix Griffiths | GT Viris | |
| Toby Grindle | Pedalabikeaway / Wye MTB | |
| Ioan Hepburn | Peddle a bike away/ Wye MTB | |
| Louie Hughes | Cant quit cartel/kevfactoryracing | |
| Noah Killeen | Silverback Xtreme | |
| James Lee-Jervis | - | |
| Harry Lees | - | |
| Max Lewis | Sterlands Cycle Service | |
| Billy List | - | |
| George Madley | BRINK.UK | |
| Ted Morris | - | |
| Josh Price | - | |
| Harry Simpson | - | |
| Ollie Sinden | Broken Riders | |
| Jack Taylor | Freeborn | |
| Aidan Thomsett | - | |
| Oliver Ward | - | |
| Jack Webb | Ride it Rad | |
| Travis Williams | - | |
| Charlie Woodland | - | |
COURSE PREVIEW