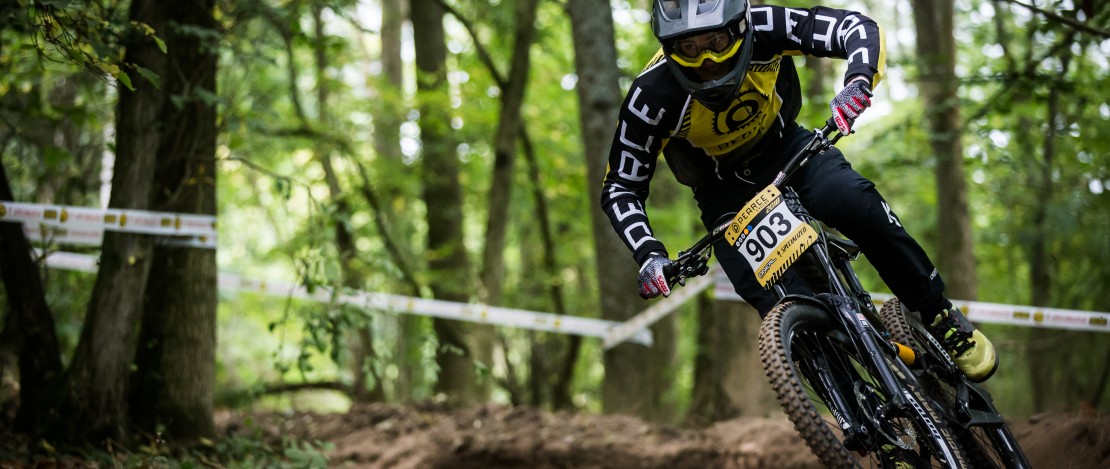 GENERAL INFORMATION
Come and enjoy a weekends riding and racing with Pearce Cycles. You will get a full day of uplifted practice on Saturday on a marked downhill track that is marshalled and has medical cover. On Sunday you will get a limited practice time in the morning then 2 allocated timed race runs during the day. Timed by our system that gives split times and a speed trap. The tracks we use are designed for all to enjoy and ride safely. They are black graded but are suitable for both Downhill and Trail bikes.
On the day we offer a trail bike sub category in each class that you can choose to opt into. 
You can race from the year of your 13th birthday upwards, a full explanation of the category system can be found HERE
Full information on how to take part and the event schedule HERE
Full terms and conditions, including cancellation policy HERE
Entry open midnight 2nd February 2020.
Directions
Hopton Woods, Hopton Castle, Nr Craven Arms, Shropshire, SY7 0QF.
From A49 at Craven Arms. Turn onto B4368 signposted Clun. In approx. 2 miles turn left onto B4367 signposted Knighton. Drive through Clungunford to Hopton Heath. Turn right, over railway bridge and then immediately left towards Hopton Castle. Follow narrow road to Hopton Castle. PLEASE DRIVE WITH CAUTION HERE. Turn left by the castle and follow MTB Race signs along Bedstone Lane to parking field on your right side.

When exiting, all traffic will need to turn right out of the venue towards Bedstone. Please follow the signs. No traffic should leave through Hopton Castle village.
ENTRY
entry already closed
| classifications | date/time | entry fees | |
| --- | --- | --- | --- |
| Elite (M) | 11:00 25 Jul 2020 | £ 75.00 | |
| Elite Women | 11:00 25 Jul 2020 | £ 75.00 | |
| Expert (M) | 11:00 25 Jul 2020 | £ 75.00 | |
| Senior (M) | 11:00 25 Jul 2020 | £ 75.00 | |
| Senior Women | 11:00 25 Jul 2020 | £ 75.00 | |
| Junior (M) | 11:00 25 Jul 2020 | £ 75.00 | |
| Junior Women | 11:00 25 Jul 2020 | £ 75.00 | |
| Master (M) | 11:00 25 Jul 2020 | £ 75.00 | |
| Veteran (M) | 11:00 25 Jul 2020 | £ 75.00 | |
| Grand Veteran (M) | 11:00 25 Jul 2020 | £ 75.00 | |
| Youth (M) | 11:00 25 Jul 2020 | £ 75.00 | |
| Juvenile (M) | 11:00 25 Jul 2020 | £ 75.00 | |
CURRENT ENTRANTS
| Name | Club sponsor | |
| --- | --- | --- |
| Gareth Brewin | The Trailhead | |
| Shaun Richards | Continental Saracen | |
| Adam Smith | Hope technology. Fasthouse. Muc-off | |
| Robert Smith | - | |
| Dec Willicombe | Brink UK/Plush Suspension/Smith Optics | |
| Name | Club sponsor | |
| --- | --- | --- |
| Abbie Sloan | Steele Industries Ltd, Forked Up MTB, KingSunglasses, MissionMX | |
| Name | Club sponsor | |
| --- | --- | --- |
| James Bourne | - | |
| Vini Crighton-Poli | The Trailhead | |
| Joseph Derrick | - | |
| Alex Florian | Burgtec | |
| Jason Gaiger | Freeborn/Devinci | |
| Eric Harvey-Fishenden | - | |
| Jonathan Oddy | Kona UK , 250 London | |
| John Riddell | The Trailhead | |
| David Smith | - | |
| Ed Smith | - | |
| Danny Wenmoth | A-Line Electrical Ltd | |
| Name | Club sponsor | |
| --- | --- | --- |
| Joel Anderson | specialized uk, loose riders, melon optics, Stans no tubes, 661 protection | |
| Isaac Anderson | Carder Technology | |
| George Baile | - | |
| Toby Down | Carder Technology, 661 Protection | |
| Kyle Evans | silver birch clothing - gform - kingsunglass - myvegan | |
| Tom Evans | MIJ downhill/ Decade Europe | |
| Nathan Foster | Racers Guild Squadron | |
| James Gibson | - | |
| Alexander Gray | - | |
| Luther Griffiths | - | |
| Ollie Halls | - | |
| Guy James | - | |
| Harvey Powell | - | |
| Name | Club sponsor | |
| --- | --- | --- |
| Rebecca Smith | Flow MTB | |
| Rene Stent | - | |
| Name | Club sponsor | |
| --- | --- | --- |
| Oscar Barker | - | |
| Joshua Bennett | The trailhead | |
| Matthew Foster | Racers Guild Squadron | |
| Alfie Gale | Team 2020 | |
| Calum Tolley | Pearce Cycles Race Team | |
| Name | Club sponsor | |
| --- | --- | --- |
| jenna fellows | - | |
| Name | Club sponsor | |
| --- | --- | --- |
| Wayne Appleby | Appleby Motor Home Hire | |
| Ivor Bowen | - | |
| Paul Burford | BTR FABRICATIONS | |
| Jordan Cavalier | - | |
| Simon Dobson | Sunday Invitational | |
| Rob Hill | Pearce Cycles Race Team | |
| Gareth Lake | 2:1Racing/Specialized UK/Burgtec/RockGuardz | |
| Tim Morgan | Brooks Cycles | |
| Cameron Nichols | - | |
| Dan Partington | Sunday Invitational | |
| Simon Pemberton | Sunday Invitational | |
| Joey Powis | - | |
| Sam Waters | - | |
| Aled Williams | Black Box Training | |
| Name | Club sponsor | |
| --- | --- | --- |
| Paul Blight | - | |
| Nathan Cavalier | - | |
| Pete Crump | Pearce cycles/Fox/Hope/renthal/Decade/SBXextreme | |
| Matthew Davies | Rockguardz | |
| Sean Day | - | |
| chris derry | Pearce Cycles | |
| Barry Fenton | Rapidas | |
| Phil Gray | - | |
| Stephen Hardcastle | - | |
| Stu Hughes | Decade/7iDP/Royal Racing | |
| Eamonn Lawless | Never Ready Racing | |
| David List | - | |
| Andrew Macmillan | - | |
| Andrew Old | - | |
| Will Priestner | - | |
| Terry Smith | - | |
| Neil White | Singletrack. Revolution Bike Park. Brink. Schwalbe. Hope. Dexshell | |
| Name | Club sponsor | |
| --- | --- | --- |
| Ian Bray | MIJ Racing | |
| Matthew Patrickson | - | |
| Shaun Tandy | Racers Guild | |
| Iain Wilkinson | - | |
| Name | Club sponsor | |
| --- | --- | --- |
| Matthew Griffiths | Malvern MTB | |
| Ben Hicken | Rockguardz | |
| Tyler Hughes | Decade/7iDP/Royal Racing/Muc-Off | |
| Ollie Marfell | FOD Gravity Team | |
| Finn New | Rockguardz | |
| Owen Rick | Stanton Bikes, Pinned Attire, Tred Shop | |
| Archie Townsend | - | |
| Name | Club sponsor | |
| --- | --- | --- |
| Rudi Eichhorn | Canyon Collective FMD | |
| Jowan Hewitt | Unit Cycles | |
| George Marfell | - | |
COURSE PREVIEW