2022 Pearce Cycles Demo + Uplift Weekend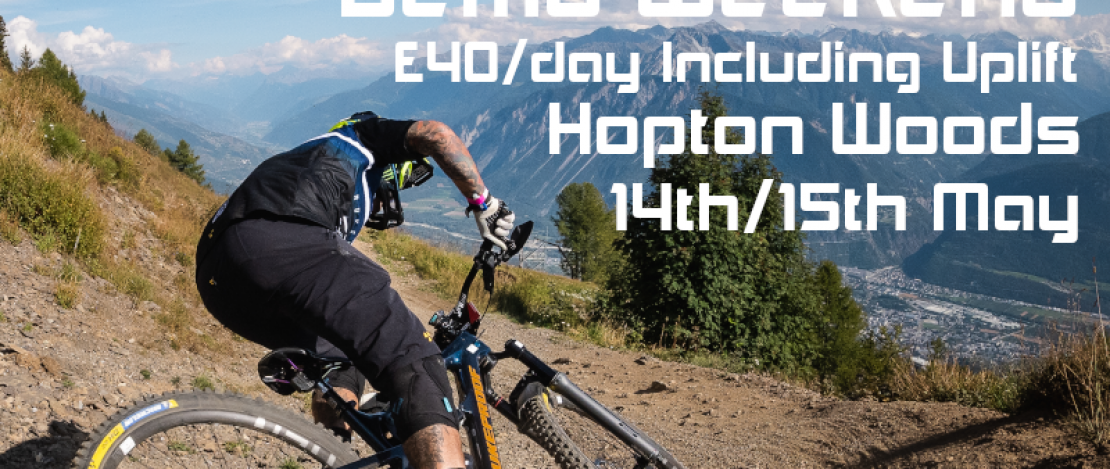 GENERAL INFORMATION
We've added extra capacity to run normal uplift alongside this demo day. Price includes drink and a hot roll.
What could be better than a demo day at Hopton Woods? How about a demo with the Pearce Uplift running??? Two days, Saturday and Sunday.
Using our usual uplift service, you will be able to get plenty of runs on the latest bikes from Orange and Nukeproof.
There will be a specific loop for the demo day using a shortened version of the red loop accessed from the uplift drop off. Of course, the downhill tracks will be there too.
We will have our usual race catering van on site for breakfast rolls, tea & coffee etc. 
A breakfast roll or sandwich and a cup of tea or coffee is included with your entry. 
Uplifts will run from 10:30 until 3:30. 
All for £40!
We will be in touch with everyone who enters with more information and also to confirm bikes/sizes required.
Everyone who wants to demo a bike will need to bring photo ID and a credit card with them
Please bring your own pedals with you if you have a preference. Remember your kit and some cash for the burger van!
We will have the following bikes on demo:
Orange Stage 6 EVO SE Medium, Large 
Orange Alpine EVO SE Medium, Large 
Orange Stage EVO Pro Large 
Orange Phase 29 RS Medium
Orange Phase MX RS  Large
Orange Switch 7 Large 
Megawatt Elite: Small, Medium x 2, Large x 2, XL 
Reactor 275 Elite: Small, Medium 
Reactor 290: Large, XL 
Mega 297 Elite: Medium 
Mega 297 pro: Small 
Mega 290 Elite: Large, XL, XXL 
Giga 297 Elite: Small, Medium 
Giga 290 Elite: Large, XL
Directions
Link for navigation through What 3 Words: 
BROCCOLI.ZAPS.SLICE
Hopton Woods, Hopton Castle, Nr Craven Arms, Shropshire, SY7 0QF.
From A49 at Craven Arms. Turn onto B4368 signposted Clun. In approx. 2 miles turn left onto B4367 signposted Knighton. Drive through Clungunford to Hopton Heath. Turn right, over railway bridge and then immediately left towards Hopton Castle. Follow narrow road to Hopton Castle. PLEASE DRIVE WITH CAUTION HERE. Turn left by the castle and follow MTB Race signs along Bedstone Lane to parking field on your right hand side.
ENTRY
entry already closed
| classifications | date/time | entry fees | |
| --- | --- | --- | --- |
| Demo Day with Uplift Saturday | 14 May 2022 | £ 40.00 | |
| Demo Day with Uplift Sunday | 14 May 2022 | £ 40.00 | |
CURRENT ENTRANTS
Demo Day with Uplift Saturday
| Name | Club sponsor | |
| --- | --- | --- |
| Jack Ashman | - | |
| Max Brick | - | |
| Steve Bright | - | |
| Phil Cornelissen | - | |
| Robert Fielding | - | |
| Lucas Fisher | - | |
| Sam Harris | N/A | |
| Matthew Hearne | - | |
| Lucas Jarrett | - | |
| Ben Johns | - | |
| Josh Lancett-Edwards | Pearce Cycles/Fit4Racing/TheMudhugger/Burgtec | |
| Ben Lewis | - | |
| Max Lewis | Green Snow Collective | |
| Andy Lewis | - | |
| Tom Lynch | - | |
| Harry Morgan | Ann Summers | |
| Jamie Mountford | - | |
| Alex Pearn | - | |
| Louis Pearn | - | |
| Theo Powell | - | |
| Harvey Powell | Grandstand Auto Services | |
| Darren Powell | - | |
| William Turner | - | |
| George Turner | - | |
| Karel van Goor | - | |
| jordan williams | Madison Saracen Factory Race Team | |
Demo Day with Uplift Sunday
| Name | Club sponsor | |
| --- | --- | --- |
| Dominic Barnes | - | |
| Jake Bazeley | MSW | |
| Jonathan Bennett | - | |
| Corrabeth Bishop | - | |
| Gabriel Brown | - | |
| Harry Carr | Pedalabikeaway | |
| David Carr | - | |
| Otto Carter-Kennelly | - | |
| Fin Cooper | - | |
| Ethan Craik | - | |
| Lucas Craik | Green Snow Collective | |
| Harry Dallow | - | |
| Nathan de Vaux | Antur Stiniog Race Team/Endura | |
| Richard Dudley | - | |
| Jack Evans | - | |
| Miguel Faisca | - | |
| Brad Frost | - | |
| Paul Getty | - | |
| Ben Hampson | - | |
| Cerwyn Hayes-Gamble | - | |
| Adam Kilvert | - | |
| Tyson Lamp | - | |
| Bayden Lamp | - | |
| Oscar Lamp | - | |
| Kris Lancaster | - | |
| Daniel Leigh | - | |
| Ewan McKinnon | - | |
| Robert Newton | - | |
| George Newton | - | |
| Oliver Newton | - | |
| Oliver Pearce | Pearce Cycles | |
| Nick Pickard | - | |
| Harriet Pickup | - | |
| James Robins | - | |
| Adam Rowlands | - | |
| Tom Sheppard | - | |
| Rich Simpson | RSR Bikeworks / GT | |
| Jono Simpson | Pearce Cycles Race Team | |
| Ryan Smallman | - | |
| Jonny Tilt | - | |
| Jo Tucker | - | |
| Sam Verran | Gnar-Mech Cycles | |
| Rowan Williams-Howells | - | |
| Kevin Willis | - | |
COURSE PREVIEW